Meet Russ
He was born to sing.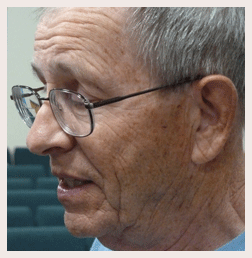 It seems like Russ has been singing all his life from first grade music class to college touring choir, to community theater, church choir and finally to barbershop. It wasn't until Russ discovered barbershop that he really found a home and a way of life. Since his first year membership in the Barbershop Harmony Society in 1970, Russ has sung in nine registered quartets and competed six times with the Heralds of Harmony on the International Stage with the best choruses in the world.

Russ met his future wife in the high school marching band where she played the French Horn and he played the  Double Bb Bass Tuba. A short sojourn into Kentucky for thirty-three years found Russ in a tenured position at the University of Kentucky, then off to Florida to take care of the grandkids. It didn't take Russ very long before he was singing with the Heralds of Harmony, the Songfellows, T Bay Four and now with Compound Interest.   That is why he can often be heard saying, "Singing is such great fun."
A year or so ago Russ started taking piano lessons and last June 11, he presented his first blues composition "Dirty Rotten Landlord Blues" at a concert in Tampa.